Welcome to this is a great invention.  Many allergy friendly mayonnaise substitutes use tofu as one of the main ingredients.  I have come up with a soy free and oil free version.  This is so exciting.  Many people love using this recipe many different ways because of the delicious taste and thicker texture.  
Use this recipe as a substitute for mayonnaise.  You can also use it as a veggie dip, sandwich spread, sauce, dressing and dip for your potato fries. It is used throughout my Farr Better Recipes.  Have fun and be creative with the use of this recipe.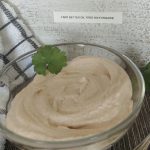 Print Recipe
Farr Better Oil Free Mayonnaise
Why is it better to make your own condiments? Because the ingredients are raw and authentic, which makes them allergy friendly. Best part is you can pronounce all the ingredients!! There are no added chemicals or preservatives. With that being said, the flavors prevail with deliciousness.
FBR Qualities:
Gluten Free, Wheat Free, Dairy Free, Yeast Free, Soy Free, Oil Free, Egg Free, Fish Free, Shellfish Free, Oat Free. This is Plant-Based, Vegan, Vegetarian, Organic, Non-GMO friendly.
Ingredients
1

cup

raw cashews

unsalted preferred

1/4

cup

aquafaba

Click ingredient link for recipe on FBR website

1/4

cup

water

1

tablespoon

lemon juice

freshly squeezed

2

teaspoons

white wine vinegar

1

teaspoon

dijon mustard

1/2

teaspoon

sugar substitute

1/4

teaspoon

onion powder

1/4

teaspoon

Himalayan Sea Salt
Instructions
EQUIPMENT
Blender - high speed

Strainer, colander

Small bowl

Hand Held Mixer - option for making aquafaba

Hand Blender Set with Whisk included - option for making aquafaba

Hand Held Lemon Squeezer - optional piece to make fresh squeezed lemon juice

Wooden Lemon Reamer - optional piece to make fresh squeeze lemon juice

Citrus Juicer - optional piece to make fresh squeezed lemon jucie
SOAK CASHEWS
In a small bowl, cover cashews with water. Let sit for a few hours or overnight (I prefer overnight because they become soft for blending the next day.) It will reduce blending time and make it a smooth and creamy texture.
PREP CASHEWS
Use strainer to drain out old cashew water

Rinse under lukewarm water

Add cashews to blender
ADD REMAINING INGREDIENTS TO BLENDER
Make aquafaba in small bowl with mixer - recipe and information are on the website. Click link in the ingredient list.

Add rest of ingredients; water, lemon juice, white wine vinegar, Dijon mustard, stevia, onion powder, Himalayan sea salt.

Add sea salt - Dr. Axe says, "Pink Himalayan salt is often said to be the most beneficial as well as the cleanest salt available on this planet today. Pink Himalayan sea salt contains over 84 minerals and trace elements, including calcium, magnesium, potassium, copper and iron, so it does more than just make your food taste better." This is the guilt-free option.
INGREDIENT OPTIONS
FBR IDEA: To create the flavor of your choice, here are some other ingredient options; 1/2 teaspoon Tahini, 2 tablespoons Apple Cider Vinegar, 1/4 teaspoon xanthan gum
Notes
When purchasing a packaged ingredient, it's important to look for certified logos like; USDA Organic, Non-GMO, Gluten Free, Vegan and BPA Free Lined Cans.  I choose these products because of my research and the safety they provide our family.  If you can't find the exact product listed, find a similar one available to you.  At least you know what to look for in a product that is safely packaged before you purchase it.
Remember if you have an allergy to an ingredient, eliminate it from the recipe.
According to the "Clean Proteins" chart, cashews made it on the list!!
Thank you for choosing Farr Better Recipes. We believe everyone deserves to FEEL GOOD and ENJOY LIFE!