This post may contain affiliate links. This means if you click on the link and purchase the item we may receive an affiliate commission.  Regardless, we only recommend products or services that we believe will add value to our readers. To read our full affiliate disclosure please visit our disclosure page, which can be found here. 
ChefSofi Mortar and Pestle Set – Unpolished Heavy Granite for Enhanced Performance and Organic Appearance
Features: 
A KITCHEN MUST-HAVE: Mortar and pestle set (mortero de cocina – morter and pessel – molcajete or guacamole bowl and pestel) has been used for THOUSANDS of years as THE way to crush, grind and powder herbs and dry spices. Contrary to an electric grinder or crusher, the age-old, durable, traditional manual grinding method ensures that all cooking ingredients bring out their full flavor and aroma profiles, allowing you to further control their texture and make delicious, chunk-free dishes.
VERSATILE TOOL:  Take advantage of your brand new stone mortar and pedestal set's various applications in the kitchen and simplify your everyday life! Use your mortar to pulverize nuts, seeds, ginger root, and garlic and make homemade salad dressing, sauces and condiments, such as fresh mustard, guacamole, pesto, salsa, chutneys and more. Widely used in pharmacies and apothecaries, your molcajete set will help you powder pills, for optimal ingestion, or hide them in your stubborn pet's kibble!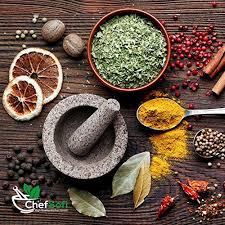 EFFORTLESS USE:  This ChefSofi stone molcajete motor & pedestal set was designed with your convenience in mind. Made from unpolished granite, you will waste no time fumbling or stabilizing your pestle masher, as our mortar's cup interior provides the best, metate-like natural friction for swift ingredient crushing, grinding or powdering. With a 500 ml (approx. 2 Cup) capacity, this stone mortar also reduces the need for ingredient refills, affording quick food prep, in one go!
QUICK CLEANING & ZERO KITCHEN MESSES: As granite is inherently durable and heavy, this mortar will not slip on your kitchen counters, remaining still throughout the grinding process. Our pestle offers foolproof grip, gliding across the mortar's interior, without the need for excess hand motions, which would result in ingredient waste and kitchen counter messes! By investing in this stoneware set, you are gaining a timeless, multifunctional kitchen tool, which will make cooking a breeze!