Why is this Farr Better Coleslaw?  Because it includes Farr Better Oil Free Mayonnaise!  I love cooking foods from scratch.  It's exciting to create a "common dish" like coleslaw and make a healthy version, for people to enjoy.  Especially for people who have multiple dietary restrictions. Furthermore, I love catering to our community of friends who eat this way "by choice".  They really appreciate and enjoy these recipes.
When creating recipes, I like to introduce other "not so common" ingredients to enhance the recipe. Invent and Inspire! 
Remember you can always take out ingredients that are not on your "safe list".  That's why I provide a variety of ideas for you.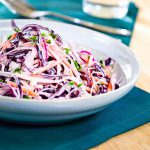 Print Recipe
Farr Better Oil Free Coleslaw
Why I use "Simply Organic" seasonings. Their Values: "Great-tasting organic food is good for our bodies — and it's good for the planet our children and grandchildren will inherit. It's a simple choice that makes a big difference. People are once again seeking food that is in tune with nature's systems — and there is no healthier, more flavorful way to season this food than with high quality organic Simply Organic spices." I also use seasonings purchased in the bulk area of my local co-op. Same value system.
FBR Qualities:
Plant-Based, Gluten Free, Wheat Free, Dairy Free, Oil Free, Yeast Free, Soy Free, Oat Free, Vegan, Vegetarian
Ingredients
5

cups

cabbage

shredded, we enjoy red, purple and green

2

cups

carrots

shredded, have fun and use a rainbow of colored carrots

1

cup

Brussels sprouts

chopped; optional ingredient

1

cup

bell pepper

chopped, pick your favorite color pepper or use a little of each

3/4

cup

green onions

with tops, chopped

1/2

cup

Farr Better Oil Free Mayonnaise

click ingredient link to see recipe on FBR website

2

tablespoons

Dairy Free Unsweetened Vanilla Yogurt

add more to your liking for taste and texture

1

teaspoon

celery seed

1

teaspoon

onion powder

1

teaspoon

sugar substitute

1/2

teaspoon

black pepper

1/4

teaspoon

smoked paprika

1/4

teaspoon

Himalayan Sea Salt

2

tablespoons

white wine vinegar
Instructions
EQUIPMENT
Food processor - optional to shred, slice or dice produce. For this recipe you could use it for the cabbage, carrots, Brussels sprouts and bell peppers

Hand Grater - optional to shred carrots

Cutting Board

Large mixing bowl
COMBINE IN BOWL
Add cabbage

Add carrot

Add Brussels sprouts

Add bell peppers

Add green onion. Mix these ingredients gently and thoroughly.
ADD REMAINING DRESSING INGREDIENTS
Add Farr Better Oil Free Mayonnaise

Add vinegar, yogurt, celery seed, onion powder, stevia, black pepper and smoked paprika

Add sea salt - Dr. Axe says, "Pink Himalayan salt is often said to be the most beneficial as well as the cleanest salt available on this planet today. Pink Himalayan sea salt contains over 84 minerals and trace elements, including calcium, magnesium, potassium, copper and iron, so it does more than just make your food taste better." This is the guilt-free option.

Stir thoroughly to coat the vegetables with the sauce mixture until well combined. Chill in the refrigerator before serving.
Notes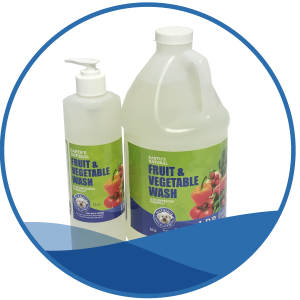 Earth's Natural Fruit & Vegetable Wash was scientifically developed to clean produce and help it taste better... the way Mother Nature made it.  Our wash is highly effective on both whole and processed produce.  It is a plant-based concentrate designed to remove 95% or more chemicals and harmful toxins. 
It's very important to protect you, your family and loved ones by washing the produce before you eat it.  Look at the water through a clear glass after a wash to see what gets pulled out of your produce, example strawberries.  Then tell yourself and your family, "Here, drink this".  100% of the time people will never drink the contaminated water ever.  Knowing what you know, don't let anyone eat produce before it's cleaned. Let's start living a healthy lifestyle. 
FBR HINT:  Wash ahead to save time preparing your meals. 

Available for sale on FBR website

.
Why Organic?… Always try use Organic products to avoid high pesticide residue on your food. Certified Organic means NO… GMO's, synthetic pesticides, roundup herbicides, hexane, sewage sludge, growth-promoting antibiotics or ractopamine drug residues. Keep you and your family safe, buy Organic!
Special Note:  If you have severe allergies, find packaged ingredients made from an allergy safe facility. Manufacturers must state that information on the product. 
Thank you for choosing Farr Better Recipes. We believe everyone deserves to FEEL GOOD and ENJOY LIFE!