This post may contain affiliate links. This means if you click on the link and purchase the item we may receive an affiliate commission.  Regardless, we only recommend products or services that we believe will add value to our readers. To read our full affiliate disclosure please visit our disclosure page, which can be found here. 
Food Chop Wizard / Vegetable Dicer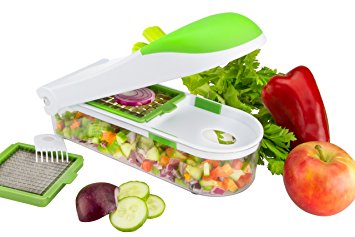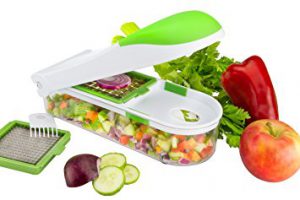 We use it for:  I love how the food is contained in a tray. Less mess to clean up. Many of our Farr Better Recipes include freshly chopped vegetables. This product is perfect because you can choose the size of the chopped pieces with the discs.
About:  Chop vegetables, fruit, cheese, and more in half the time, Handy gadget chops and diced veggies with one swift motion.
Features:  Includes 2 super sharp insert discs for perfect chopping and dicing every time, Catch container doubles as a measuring cup with marks from 1/2 cup up to 2 cups, Includes handy lid cleaning tool; dishwasher safe.