This post may contain affiliate links. This means if you click on the link and purchase the item we may receive an affiliate commission.  Regardless, we only recommend products or services that we believe will add value to our readers. To read our full affiliate disclosure please visit our disclosure page, which can be found here. 
Adjustable Mandoline Slicer and Shredder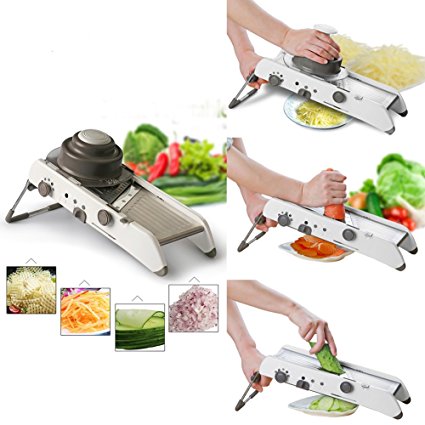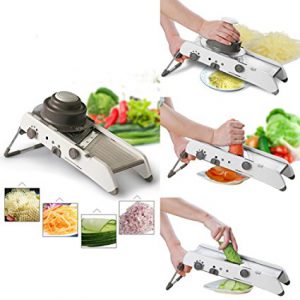 We use it for:  Again, this is for achieving that perfect cut for that perfect dish you are preparing from Farr Better Recipes.
About:  
Built-In Blades: The professional mandoline vegetable slicer doesn't need to replace blades, all thickness adjustments are achieved with the turn of a knob for a seamless change between the built-in slicing and waffle blades, eliminating loose blades or parts.

Variable Slices and Thickness: The manual mandoline slicer produces 18 kinds of slices for vegetable and fruit; Slice, julienne, and waffle cutting options with four slicing thicknesses that vary from 1mm, 3.5mm, 5.5mm, and 7.5mm.
Features:  
Safety Guard and folding Legs: The kitchen slicer with safety hand guard to secure food for stable slicing; The mandolin has a foldable handle, non-slip non-skid legs which provides a stable platform and raises the body to a height of 14 cms to allow more space below to collect the more slicers.

Fixed Pins on Safety Guard: The adjustable mandoline combines fixed pins on both the central and outer rim of the guard with additional retractable long metal pins that can accommodate substantial thicknesses and different shapes of fruit or vegetable.

Easy to Clean: The mandoline is easy to clean under running tap or dishwasher; No need to touch or change blades and risk cutting yourself; The blade can be locked flat for storage to avoid accidental cuts when handling the unit or putting it away in the cupboard.