This post may contain affiliate links. This means if you click on the link and purchase the item we may receive an affiliate commission.  Regardless, we only recommend products or services that we believe will add value to our readers. To read our full affiliate disclosure please visit our disclosure page, which can be found here. 
Great American Steakhouse Onion Machine™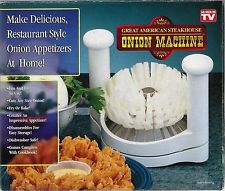 We use it for:  It's great for an impressive and delicious Blooming/Flowered Onion. I have a wonderful allergy-friendly batter provided by our Farr Better Recipes®. I also came up with the best allergy-friendly Farr Better Seasoned Sour Cream to dip the onion in.
About:  Fun and easy to use because it cuts any size onion to air fry or bake. This is the perfect opportunity to use our Power Air Fryer XL™. You can also use another favorite product to bake the onion,Copper Crisper
Features:  Perfect onion cutter for this appetizer. Dishwasher safe, disassemble for easy storage