This post may contain affiliate links. This means if you click on the link and purchase the item we may receive an affiliate commission.  Regardless, we only recommend products or services that we believe will add value to our readers. To read our full affiliate disclosure please visit our disclosure page, which can be found here. 
Ovente® Hand Immersion Blender Set, Stainless Steel, Red or Black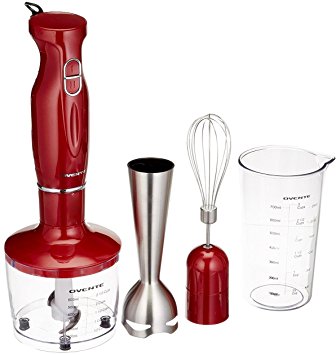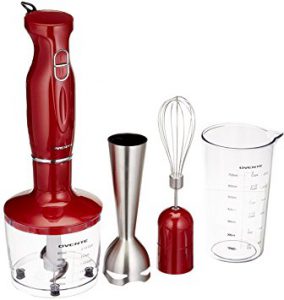 We use it for:  Love this product! We use it all the time. It blends and makes our protein shakes so smooth. It cuts down on prep time with many Farr Better Recipes®.
About:  Makes delicious and healthy smoothies, pureed soups, marinades, and sauces just the way you want it. Fits most mixing bowls, pots, and beakers. So versatile.

Option:  6-speed version
Features: 
POWERFUL – Equipped with a high-speed 300-Watt motor, it quickly and seamlessly blends ingredients together to make delicious and healthy smoothies, purees, creamy soups, marinades, sauces, juices, and much more.

ADJUSTABLE SPEED – It comes equipped with a pulse-activated sensor with 2 blending speeds (low, high) to whip up your perfect texture and consistency with just one touch!

SLEEK & ERGONOMIC – Its motor-housing body is sleek and ergonomically designed with a non-slip and easy-to-grip handle that feels sturdy and comfortable in your hand, so blending never feels like a chore.

HEAVY-DUTY & COMPACT – Its Slim-Stick immersion shaft is made of 304-grade stainless steel, and was carefully designed to be able to fit most mixing bowls, pots, and beakers for your everyday needs.

INCREDIBLE VALUE – Includes BPA-Free and dishwasher-safe attachments: stainless steel mixing stick, stainless steel egg whisk, food chopper attachment, and heavy-duty Tritan beaker (24 oz) with cup measurements.