This post may contain affiliate links. This means if you click on the link and purchase the item we may receive an affiliate commission.  Regardless, we only recommend products or services that we believe will add value to our readers. To read our full affiliate disclosure please visit our disclosure page, which can be found here.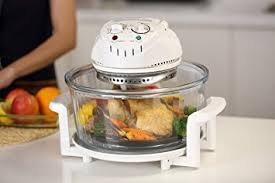 We use it for:  So many things. It's nice the Farr Better Recipes® work well with many types of kitchen tools and equipment. We like this healthy option of heating up food. Plus it cooks 50% faster and is up to 75% more energy-efficient than a conventional oven.

About: Cooks quickly and evenly, without preheating or defrosting. Great for a healthy diet, it leaves food moist on the inside and brown and crispy on the outside while containing minimum fat or oil. Choose from many setting options to match your meal, this innovative cooking appliance does everything a conventional oven can do, only better, faster, and with substantially less power consumption.

Features:  Able to Bake, Grill, Steam or Roast. Easy to clean glass. 2 wire cooking racks and plate tong. Baking up to 482 degrees F.