This post may contain affiliate links. This means if you click on the link and purchase the item we may receive an affiliate commission.  Regardless, we only recommend products or services that we believe will add value to our readers. To read our full affiliate disclosure please visit our disclosure page, which can be found here. 
Topsome Basting Brushes Silicone Heat Resistant BPA Free Pastry Brushes with Spatula for BBQ Grill Barbeque & Kitchen Baking Set Oil Brushes Soft Bristles Long Handle (5 and 6 Pack available) with Storage Bag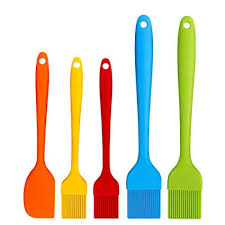 We use it for:  It's important to have this set when cooking meals for the Farr Better Recipes®. I use them a lot.  It works nicely brushing the sauces on our Cauliflower Buffalo Bites and other delicious recipes.
About:   
Top Quality Silicone and Heat Resistance: Made of premium food-grade silicone, the pastry brush is FDA approved & BPA free. High-performance silicone basting brushes are heatproof up to 446℉/230℃. The pastry brushes bristles will never melt, warp, discolor, or shrink like regular plastic or wooden brushes. And the silicone flexible bristles and comfortable hold handle are great for any use.
Effective Brushes for Cooking, Grilling, and Baking: The bristles of the basting brush are thick and strong enough to pick up and hold a good amount of liquid, saving the trouble and bringing efficiency. The high tensile strength together with the flexible soft bristles spread liquid evenly, enables you to baste smoothly. Brush your veggies with sauce. Yes, our silicone baking brushes are ready for all.
Features: 
Upgraded One-piece Design: The grilling brushes head will never fall apart from the handle or get loosen when you brush and clean them. It is bacteria safe and stain-free. And you'll never find bristles in your food. The handle built with internal steel core results in solid durability to our basting oil brush, it is also long enough to get a firm grip, never break and rust.  
Dishwasher Safe: Being ergonomically designed, our eco pastry brushes are solid and dishwasher safe. Water will never get inside even you put the brushes upside down in the dishwasher. They also dry fast and no odor nor residue left after cleaning. The barbecue brushes could be lasting basting, pastry, and multi kitchen aid if you could properly care about them.